3 Days Route - Appx. 564,2 km
The trip of a lifetime. Dogashima's wonderful nature and relaxing hot spring, breathtaking view from the Ashinoko Skyline and Mount Fuji, the symbol of Japan, will be some of the main features inculded in this iconic motorcycle tour. This tour is specifically made not only to let you enjoy motorcycle touring in Japan, but also some unique pieces of Japanese culture as well.
You of course will enjoy classic japanese pattern like hot spring's relaxing water and fresh made sashimi, but you will also be able to try the uncommon experience of wasabi's harvest on an authentic japanese wasabi field. You will be also enjoying some of the greatest historic treasures Japan can offer you, like the Owakudani valley or the unique Hoshino Hakkai. And then, the road: Izu Skyline's curves, the Kawazu Nanadaru Bridge's astonishing loop and the romantic ocean view on the Bay Bridge.
By participating in this Fam trip, you will understand the uniqueness of motorcycle touring in the Land of the Rising Sun.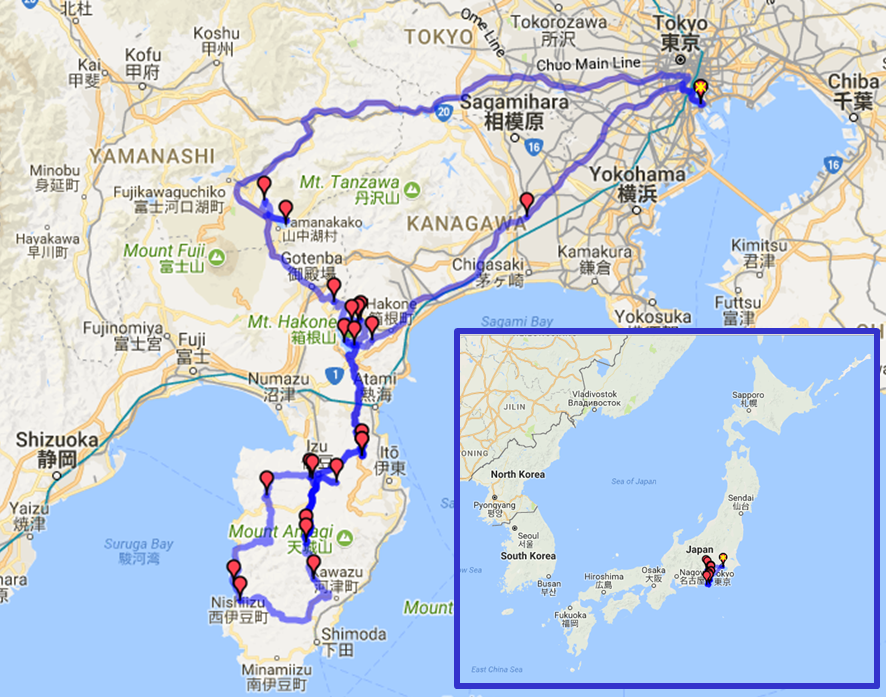 Our tour's places are located in the south center part of Japan, featuring four amazig Japanese prefectures: Tokyo, Kanagawa, Shizuoka and Yamanashi.
3 Days Route



Rental819 Odaiba→ Ashinoko Skyline→ Oshino Hakkai→ Gora→ Hakone Cable Car and Ropeway→ Owakudani Valley→ Kawazu Nanadaru Loop Bridge→ Dogashima→ Nishi-izu Skyline→ Rental819 Odaiba
Day 1: Odaiba, Oshino Hakkai and Gora - Appx. 231,8 km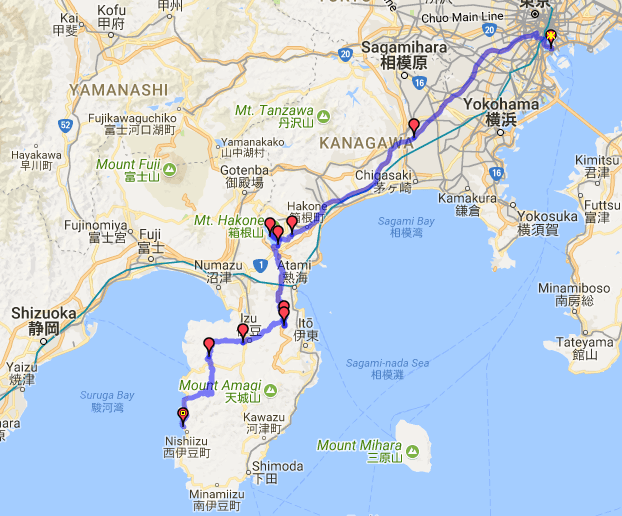 Rental819 Odaiba→ Break at Ebina parking area→Yosegi Zaiku Factory "Hamamatsuya"→ Ashinoko Skyline→ Houtou Fudou (Houtou noodles restaurant)→ Oshino Hakkai→ Gora area overnight stay
9:00 start - 17:30 arrive at the hotel

On first day we will start our tour from Odaiba, riding through the Yokohama Bay Bridge while enjoying the woderful view of the port. We will then arrive in Hakone to enjoy the unique art of japanese Yosegi Zaiku, moving then on the Ahinoko Skyline to enjoy an original lunch time eating houtou noodles. We will then be visiting a world heritage site, the beautiful Oshino Hakkai . Finally we will relax in an elegant hot spring hotel in Gora area.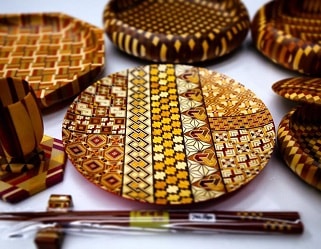 Yosegi Zaiku
A traditional wood handicraft technic original of Hakone area, which conists in creating mosaic-like pattern taking advantage of different types of wood's natural colors and shades combinations, from cherry to mulberry tree and more. Hakone, because of its peculiar environment, is blessed with a wide variety of threes, which permits a constant abundance of raw materials. After being combined in elaborate patterns, the wood is sliced in sheets used to adorne frames, boxes and much more. The most peculiar is the Himitsu-bako, a puzzle box to be opened with a combination of movements.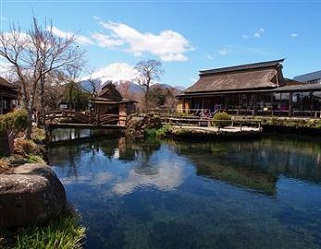 Oshino Hakkai
A small village located in the Fuji Five Lake region. Nearby there are eight ponds of extraordinarily clear water, fed by snow melting down fom Mount Fuji, filtered for more than 80 years through porous layers of lava. Near the largest pond there is Hannoki bayashi Shiryokan, an open air museum displaying old farming tools, weapons and houseold items.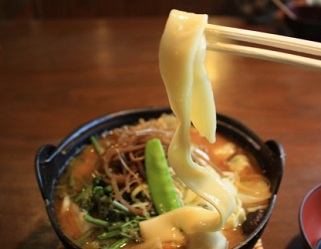 Kosaku's Houtou Noodles
A soup dish made of flat noodles stewed with vegetables in miso soup typical of Yamanashi area. The noodles are made of rice flour and usually associated with more common udon noodles, which is actually a mistake, not just because of the shape of the dough, flat and large, but also for the its preparation, more similar to the one used in dumplings preparation. A variant is "Azuki-houtou", houtou noodles in sweet thick azuki bean soup.
Day 2: Owakudani valley, Amagi pass, Dogashima - Appx. 130 km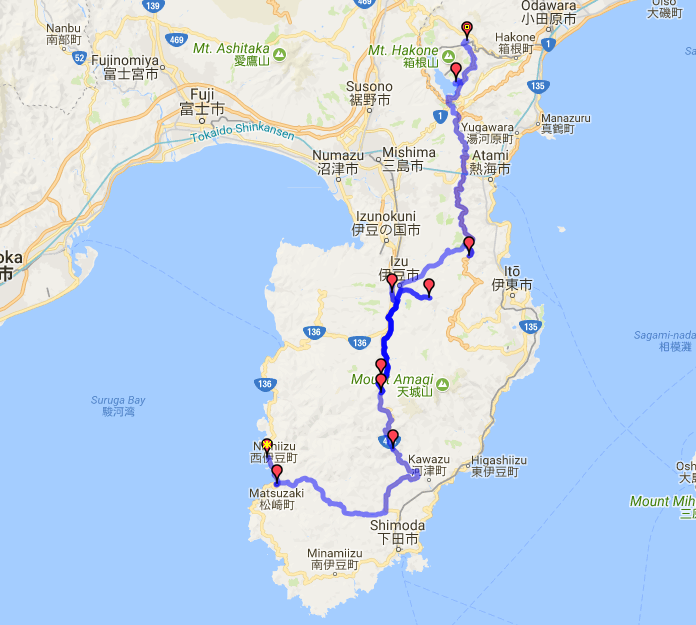 Gora→ Hakone Cable Car and Hakone Ropeway→ Owakudani→ Kawazen (Unatoro-don restaurant)→ Amagi Wasabi village (wasabi field experience)→ Kawazu Nanadaru Loop Bridge→ Dogashima area overnight stay
9:00 start - 17:00 arrive at the hotel
On second day we will have a walk to Hakone Cable Car's Naka Gora Station. We will then change for the Hakone Ropeway to enjoy one of the most powerful views in all Japan: Hakone's Owakudani valley. Once arrived at Owakudani station, we will eat "Kurotamago"black eggs, a special treat available only in this valley. For our lunch we choose a typical and pretty popular plate of this area, Kawazen restaurant's Unatoro-don: charcoal grilled japanese eel accompaigned with grated yam on a bowl of rice. We will enjoy a unique ride on the legendary Izu Skyline to experience an autentic wasabi farm, ending Kawazu Nanadaru's Loop bridge's wild curves.
At the end of the day we will arrive at our hotel in Dogashima area to relax one more time in the hot spring water.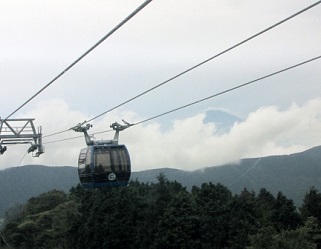 Hakone Cable Car and Ropeway
Opened in 1922, Hakone Tozan Cable Car is a funicular railway operated by Hakone Tozan Railway linking Gora area with Souzan for a 1200 meters length and a 214 meters height. It then connects with Hakone Ropeway to Owakudani station. It was a single line until 2001, becoming a funitel in 2002,. It runs on a 4 Km distance, with a maximum elevation of 1044 meters.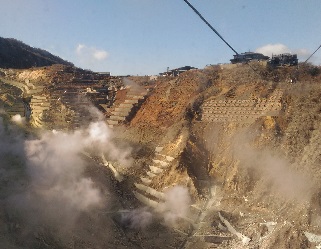 Owakudani Valley
3000 years ago Mount hakone erupted the last time, creating this active volcanic zone valley, full of hot springs, hot rivers and suggestive sulfurous fumes. The valley has a visitor center full of shops and restaurants reachable via Hakone Ropeway, which gives one of the most suggestive views of the valley's sulfurous fumes. From this area, on clear days, Mount Fuji's view can be enjoyed in all is glory.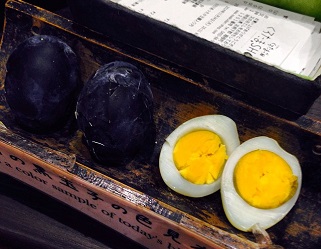 Kurotamago
A product typical of Owakudani valley. Eggs cooked in hot spring's naturally boiling water. The sulfur present in large amount in this water create a particular reaction with the phosphore contained in eggs shells, which becomes bright black, being called "Kuro-tamago", which means "black eggs". Hakone's tradition says that by eating one of these eggs life is prolonged by seven years.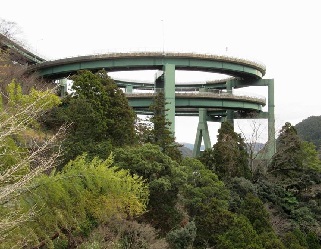 Kawazu Nanadaru Loop Bridge
Opened in 1982, it is a masterpiece of engineering, considered one of the most spectacular bridges in the world. Its particular double spiral shape is due to his original function, to connect two mountain sides while they are too steep to build a road with both sides at the same elevation. Some numbers: length is 1.1km with 80 m diameters.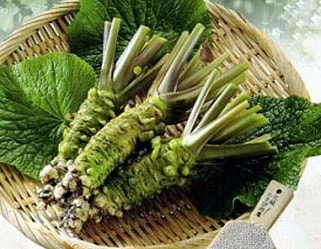 Wasabi Farm
Wasabi, due to the environment conditions and the pureness of this area's water, is one of the main business in Hakone. Amagi is full of wasabi fields, which also constitue a picturesque attraction in the area. This area's wasabi is considered Japan's finest and most delicious. These factories also prepare in loco pickled version and they sell it along with the fresh product in small shops next to the fields. During our trip, we will have the chance to not just see the factories, but also to directly experience factory work.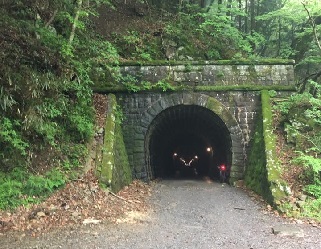 Amagi Pass
A pass located in Shizuoka prefecture between Izu and Kamonokori. It has its origin in the Amagi tonnel, whch became one of the mos iconic roads in Japan, becoming an inspiration for many artists such as Matsumoto Seicho or the nobel prize Kawabata Yasunari. The original tonnel was made in 1904 and it is now a registered cultural property.
A new tonnel was made in 1970.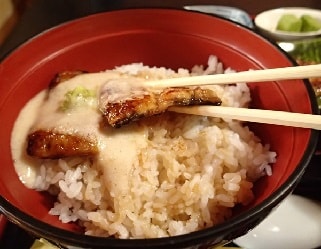 Kawazen's Unatoro-don
Unagi, Japanese eel, is considered a natural energizer in Japan, to be eaten in summer's hottest days to gain strenght or, more simply, when feeling weak and in need for something tasty and a little bit fancy, but with the taste of an ancient tradition. The word "don" means "bowl", indicating a particular way to serve food laying on a bowl full of white rice. Kawazen restaurant take unagi don to the next level, by serving it with tororo, sticky grated yam which gives to this food a particular and pretty satisfying texture, making the ultimate combo with charcoal grilled eel's salty tastyness. Those who feel a little bit "spicy" can dare add some chopped onion and wasabi.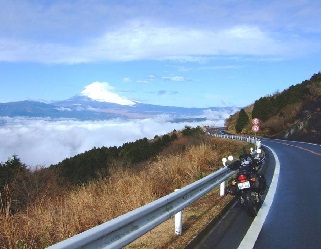 Izu Skyline
A 40.6Km toll road in the eastern part of Izu peninsula. It extends from Atami Pass Interchange and Amagi Plateau.  Along the road there are eight view points from where you will be able to enjoy views such as the Gulf of Sagami, Izu Seven Islands or Mount Fuji. The first stone was posed on 1962 and continued until 1964 year.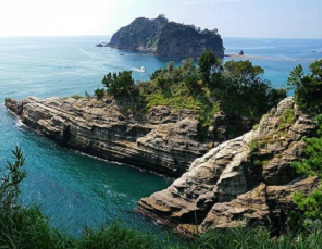 Dogashima
On the western side of Izu peninsula, this area's stone formations, born by past volcanic eruptions, are pretty unique and a popular tourism spot, also for the uniqueness of the environment. Here in fact can be experienced Tombolo, a phenomenon where at low tide between an island and the main land a strip of land shows off. The place is also pretty popular for hot springs.
Day 3: Dogashima, Mount Daruma, Odaiba - Appx. 202,4 km
Dogashima→ Nishi-Izu Skyline→ Mount Daruma corner (viewpoint)→ Mount Daruma drive in→ Maruten (Japanese restaurant)→ Ebina SA→ Rental819 Odaiba→ breaktime at the hotel→ Last meeting
9:00 start - 15:30 arrive, 17:00~ last meeting
On the last day we will be enjoying the arvellous view of Nishi-Izu from Nishi-Izu Skyline's medium speed curves. Reaching the nortch, we will arrive on Mount Daruma to see the wonderful view of Mount Fuji, symbol of Japan. For our lunchtime we will have an delicious original Japanese cusine course.

We then will return to Rental 819 Odaiba to have a rest and gather for our last meeting.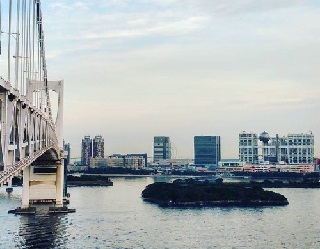 Odaiba
Situated in the Tokyo bay,  Odaiba was originally a a man made fort island build in the Edo Period following Commodore Perry's gunboat diplomacy to protect Tokyo against sea invasions. After a grand  rebuilding project held in the 1980s, today the island is one of Tokyo's most popular attractions, featuring several view spots on the Tokyo bay, luxruy hotels and shopping malls. It is also the location of some of the most iconic buildings in the capital city, like Tokyo Big Sight (Tokyo's largest exhibition center) or the futuristic Fuji Television's building.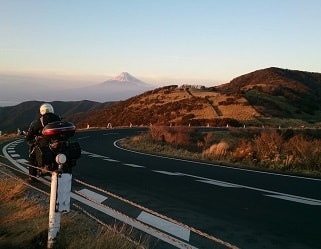 Nishi-Izu Skyline
 Nishi-Izu Skyline is one of the most popular riding roads in Japan. It is a mountain road starting from Daruma Mountain to Funabara Pass. First project was held in 1968, completed in 2004 year for a present total lenght of 10 km and a maximum heght point of 900 m. Born as a tool road, from its latest modification in 2004, this road is now free.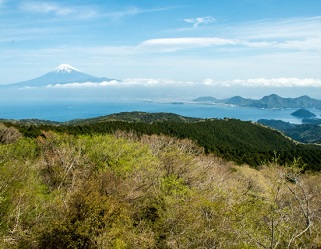 Mount Daruma
The mountan remembering the shape of Daruma sitting meditation pose. With a 981,3m height, this mountain was formed between 10 and 5 million years ago and it's peak has passed to an extreme level o erosion, making it loosing it's volcano shape. Being between Shizuoka and Izu prefecture, with the Nishi-Izu Skyline pass through it, makes it a extremely accessible drive point. With a 360° view deck it is one of the best view spot on Izu penninsula's north part.